Listen to Your Game Throughout Your Home or Yard
Ordinary bluetooth was never built to do this! The Home RTX 2.0 can achieve over an amazing 300ft+ line of sight range.
Listen to your TV using wireless headphones or speakers as you walk around your home, grill your dinner on the patio, lounge by your pool, or mow the lawn.
Click to watch it perform in this range test!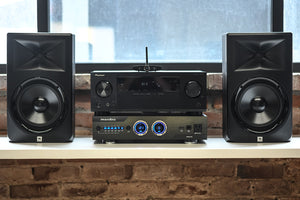 From Our Customers: Home RTX 2.0
"...it works up to 100ft away...through walls yet! I can wear the headphones in the deepest corner of my backyard and it's the same as listening in front of my home theater...amazing!"
"...I can walk throughout an 8,000 sf house with 3 floors and keep my Pandora music stream playing...in all the rooms of the house including the basement. I even get good coverage about 75ft outside the house."
More info